Air Conditioning Installation in Concord, CA
If you're looking for reliable air conditioning installation in Concord, CA, Stewart Heating, Plumbing & Air Conditioning is the company to trust. With our expertise and commitment to customer satisfaction, we ensure top-notch air conditioning installation. As an authorized brand dealer, we specialize in Bryant air conditioning systems, renowned for their quality and performance. Our team of skilled technicians is trained to handle all aspects of air conditioning installation, ensuring a seamless and efficient process. Whether you need a new installation or a replacement, Stewart Heating, Plumbing & Air Conditioning is your go-to choice for air conditioning services in Concord, CA. Contact us today to schedule an appointment or learn more about our services.
AC Installation Done Right
"One-Size-Fits-All" is not the approach we take when installing an AC system. To get the best efficiency, comfort and overall value, Stewart's will take the time to get the right-sized air conditioning system and choose AC components that match your home's installation requirements.
Improperly installed heating and cooling equipment can reduce the efficiency of your HVAC system by as much as 30 percent. At Stewart's, we follow the manufacturer installation guidelines to make sure you get the best performance out of your new air conditioning system.
Quality AC installation in Concord requires expert knowledge, and without it you could end up spending considerably more money than you need to. An inefficient air conditioning unit wastes energy and barely delivers desired output. When you hire Stewart's your getting a licensed & NATE certified air conditioning company.
Get an estimate for air conditioning installation in Concord for the AC experts!
Upgrade Your Comfort With Air Conditioning Replacement in Concord
In Concord, upgrading your comfort is a breeze with air conditioning replacement from Stewart Heating and Air Conditioning. We offer expert solutions to replace older, inefficient AC systems. Upgrade to Bryant air conditioners for superior performance and energy efficiency, ensuring a cool and comfortable indoor environment throughout the scorching summer months. Trust our experienced technicians to provide timely and hassle-free AC replacements, enhancing your indoor comfort and helping you save on energy costs. Experience the difference with our professional air conditioning replacement services in Concord today.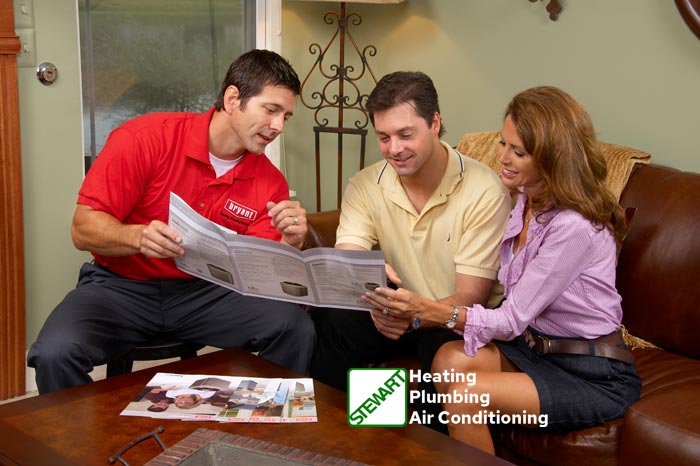 high efficiency heating & cooling system
*Not valid with any other offer
Cool Your Home, WHATEVER The Heat.
Improve your indoor comfort with a Bryant air conditioner. We've been helping homeowners do it for over a hundred years. Our Evolution™ System offers our highest efficiency home cooling and all of our products give you efficient performance, comfort and value.
Designed To Fit Your Home – And Your Budget
Bryant offers real solutions for your home cooling needs. Our comprehensive selection of air conditioners have been designed to fit virtually any home and a variety of budgets. From our innovative and intelligent Evolution™ System line with variable-speed, two-stage, and single-stage options…to Preferred™ Series deluxe two-stage and single-stage choices…and the value-driven Legacy™ Line single-stage models, our air conditioners offer summertime comfort you can depend on.
We are very satisfied with the services from Stewart Heating and Air. Jaime proved to be very knowledgable, helpful, great customer service during the time we were obtaining the various estimates, and while the work was being done. There was a change in the order for the AC unit , Jaime was able to change out the AC unit to one that fit our needs. Jaime and his team were great!!! The Bryant system is very nice and quiet. I highly recommend Stewart.